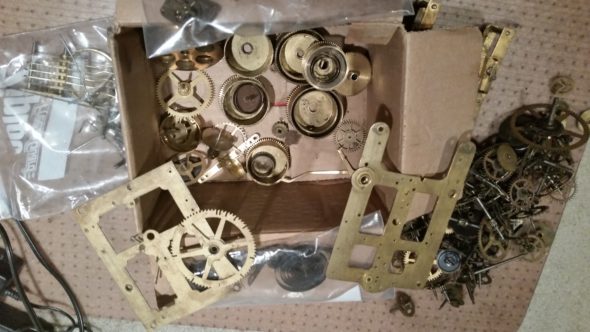 Posts have been few and far between since I have a few irons in the fire. I'm working on some emblems for a Datsun, the garden, finding rural property, a 3d printer build, and the usual clock and watch stuff. Yet, I still hear the question asked, "but you couldn't find just a few moments to post…..?"
Lol.
The garden is growing well. I'll post about that some other time. This year it's garlic, tomatoes, corn, pole beans, squash, watermelon, and the usual herbs. The coffee is doing good, saw flowers for the first time this year but I'm not holding any hope for fruit.
I'm going to make this a quick post, so here's a bunch of pics of the Datsun emblem progress. I've made a mold of the original and cast the first 'waste' piece from the mold. Now I need to cast a good piece to modify it the way the owner wants it.
On an interesting side note, I made some replica 'Barracuda' emblems for a friends car he was restoring. He only had a single good emblem and needed at least a pair for his car. The car has gone on to take many awards and is now in a recent Mopar magazine. The emblems are still on it, lol. Some pics of the reproduction emblems.
Complete, right down to the production numbers on the back and the company logo.
I also decided to challenge myself with an odd project. I purchased a large box of clockworks from ebay to have damaged clock parts to practice repairs on. 5 lbs of clock parts…… lol.
Also in that box was a severely unloved little clock movement that was almost complete, so I dug around and found a couple pieces that could make it complete with some 're-purposing'.
Someone has tried to 'repair' this movement previously. Here is a pic of one such 'repair'.
Yup, a watch gear messily soldered to the back of the plate and drilled to make a pivot hole. didn't even bother to file down the mess, unbelievable. Man is this thing full of gunk and dirt. I think they dipped it in clock oil and then left it in a dust-bunny colony.
A run through the parts baths make a big difference, check out the clean gears in the back compared to the still dirty gear in the front. Soon I'll have the whole thing cleaned and ready to unsolder that hack job and do a real repair to the plate.
Ok, enough for now. I'll post again when I can find the time.